We are pleased to announce the winners of our inaugural Giovanni Vitrano Memorial Scholarships. We are awarding $7,000 in scholarships to the graduating class of 2022, including one $5,000 scholarship and two scholarships worth $1,000. After reviewing dozens of applications from qualified high school seniors in the Tallahassee/Thomasville area, we are proud to announce our winners.
2022 $5,000 Giovanni Vitrano Memorial Scholarship Winner
Alejandro Alonso, Gadsden County High School/Florida Elite SA
Alejandro is the second family member to graduate high school and will be the first to attend college. He was the Secretary of the Gadsden Future Farmers of America. A Second-Team All-Big Bend midfielder, Alejandro holds a 3.6 GPA and plans to attend Florida State University to study Criminology.
---
2022 $1,000 Giovanni Vitrano Memorial Scholarship Winner
Ethan Stewart, Leon High Schoool
A 2022 Big Bend-All Star on Leon High School's soccer team and former teammate of Giovanni Vitrano, Ethan held a 3.9 GPA. He has signed to play soccer at Southwestern Assemblies of God University while studying Children's Ministry.
---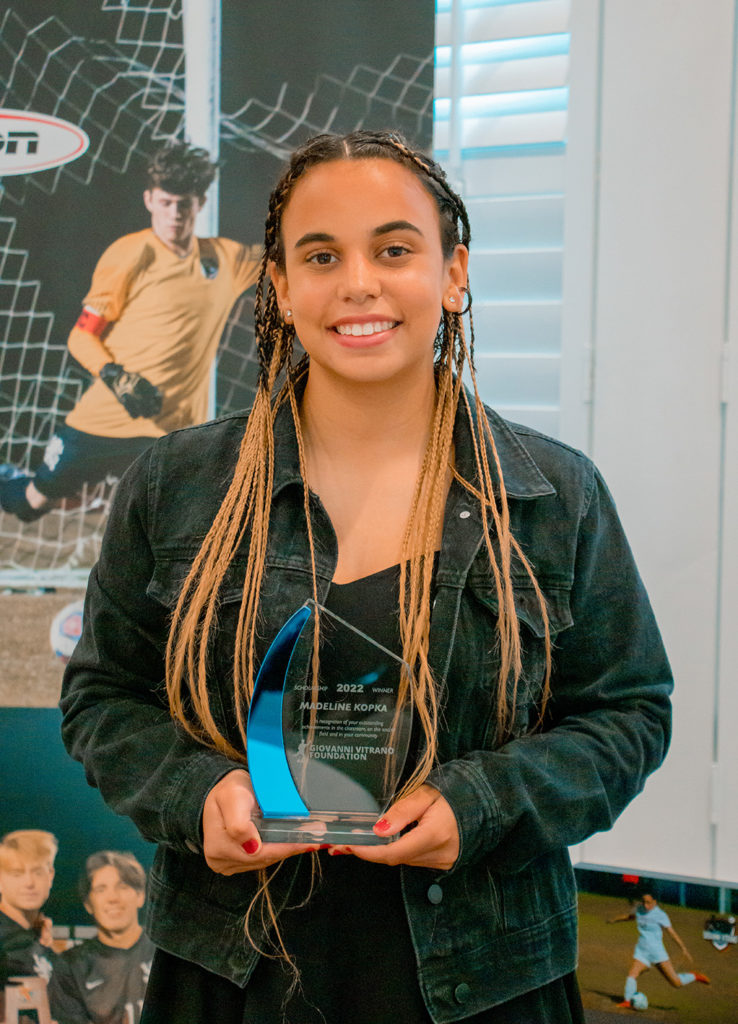 2022 $1,000 Giovanni Vitrano Memorial Scholarship Winner
Maddie Kopka, Sail High School/Florida High School Soccer
Madeline is the 2022 All-Big Bend Girls Soccer Player of the Year. Maddie overcame physical challenges to show perseverance to become an elite soccer player in our area. She holds a 3.9 GPA and plans to continue her playing career at Trinity Washington University in Washington, D.C.
---
We formed The Giovanni Vitrano Foundation following a tragic accident in College Town in 2021 that claimed the life of our son, brother, and friend at just 20-years-old. Our friends, family, and community united to raise over $29,000 to establish this scholarship in his memory. A goalkeeper on the nationally-ranked Leon High School Soccer team, Giovanni kept in touch with his former program after graduating from Leon. He attended Tallahassee Community College at the time of his passing.
Qualified applicants had to reside in the Tallahassee, FL and Thomasville, GA media markets and have played soccer at the high school or equivalent club level. The application window for Class of 2023 graduates will open this fall. More information is available at www.GVScholarship.org.
Ron Vitrano, Emilee Copeland & Mike Fahmie
The Giovanni Vitrano Foundation – GVScholarship.org